I think we can all agree it's been a crazy year! However, one thing we can always count on is Backcountry Brewing's annual Suck it Cancer brew. They're hitting it out of the park again this year, with the "Suck it Cancer" Double Dry Hopped Pale Ale, launched September 16th at the brewery in Squamish. It's set to hit the shelves across the BC in the next few weeks.
In 2016 well-known, local Squamish artist Chilli Thom passed from Cancer. A few years later, Backcountry Brewing started its annual "Suck it Cancer" fundraising campaign.
Since the campaign launched in November of 2019,

$26,000 worth of proceeds

has been raised for the BC Cancer Foundation; a huge success!
Born and raised adventuring in the backcountry of British Columbia, Chilli Thom was one of Canada's premier landscape painters. He created over 400 works before his passing in 2016. His paintings are well known for capturing the essence of time spent in the wilderness and can be found featured on the label of Backcountry's annual Suck it Cancer beer release.
This year's beer is a DDH Pale Ale, which includes one of Backcountry's preferred "Strata" hops. You can expect lots of tropical fruit notes and an overall delicious flavour profile with this double-dry hopped pale ale. The art featured on this year's label is another Chilli Thom piece titled "What Lies Beneath." The inspiration behind the artwork was a sailing trip Chilli took in 2012 on the North Coast of British Columbia. One dollar from every 4-pack $50 from each keg sold, and $0.50 from each sleeve served in the brewery's tasting room will be donated to the BC Cancer Foundation.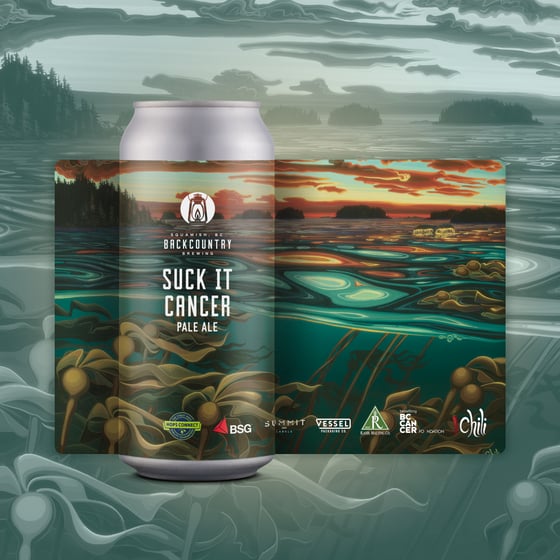 The fundraising campaign has seen so much success it now happens annually, and we're incredibly proud to sponsor and shed light on this amazing cause. Suck it Cancer has turned into a great initiative, which many now take part in. Show your support and try drinking for a cause by grabbing a 4-pack of tasty brews!