Let's be honest, 2020 has been rough. So it's with a renewed sense of hope and excitement that we are out here encouraging you to turn your pandemic drinking into good cause drinking as once again Backcountry Brewing's smash hit "Suck it Cancer" hits shelves on November 10th.
In 2016 local Squamish artist Chilli Thom succumbed to Cancer, and last year the epic Backcountry Brewing 'Suck it Cancer" campaign took BC by storm, raising $11,033 in his honour. We're ready to smash that record this year with a new piece, on a new label, and a new goal of $15,000 raised for the BC Cancer Foundation a national leader in cancer research.
"The support from BC beer drinkers was so overwhelming last year, we knew we had to do it again. Almost everyone has been affected by or witnessed the tragic effects of cancer, and Chili was a local hero in the Sea to Sky so it's an honour to have a new piece of his artwork for the label, and to be able to raise money in his name to help find a cure for this terrible disease."

Ben Reeder, co-founder and marketing manager for Backcountry Brewing.
Chilli Thom was born and raised adventuring in the British Columbia backcountry. One of Canada's premier landscape painters, his paintings are known for capturing the essence of time spent in the wilderness. So we couldn't be more honoured to once again sponsor this campaign, and help turn one of his 400 beautiful works into a unique and inspiring label.
"We are so grateful to once again partner with Backcountry Brewing to break down cancer across B.C. This year, more than ever, British Columbians facing cancer need hope, and the brilliant teams at BC Cancer are determined to carry on with breakthrough research with the support of this campaign and our generous community."

Sarah Roth, President & CEO, BC Cancer Foundation.
Now, onto the beer; the 2020 Suck It Cancer Pale ale is switching it up. Hopped with Mosaic, Citra and one of our favourite hops, Strata. It's killer, and as Backcountry master brewer John Folinsbee says, you can "expect big dank and tropical fruit notes with this double dry-hopped pale ale." Honestly, we think you're really going to like it.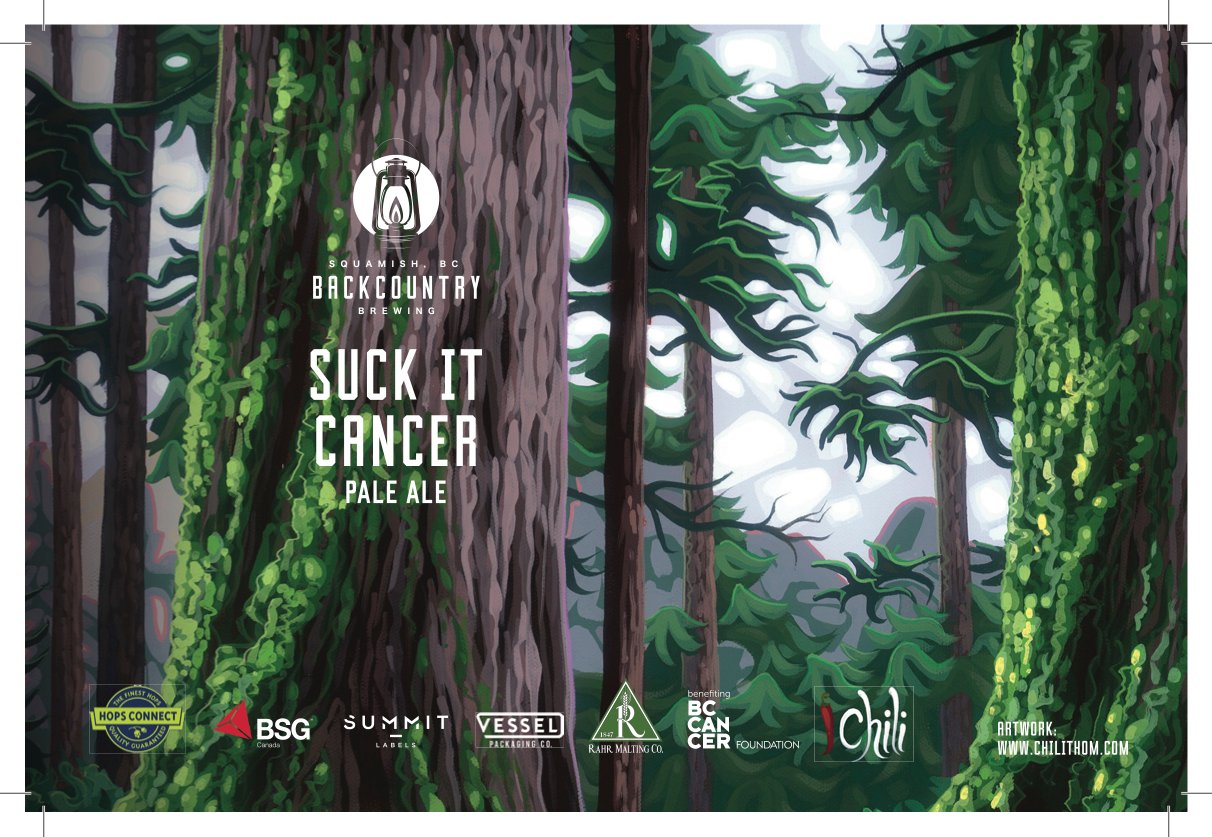 Suck It Cancer: DDH (Double Dry Hopped) Pale Ale 5.5% ABV | 30 IBU
Backcountry Brewing will be donating:
$1 per 4-pack sold
$50 per keg sold
$0.50 per sleeve sold in the tasting room
$1 per 1L growler sold
$2 per 2L growler sold
While Supplies last, you can hit up the brewery for:
Chilli Thom Prints
Limited Edition 'Suck it Cancer' Stickers
You can find this beer across BC in:
(Stay tuned for a more detailed list of the fine establishments carrying kegs and cans!)
Sea to Sky Corridor

Lower Mainland

Fraser Valley

Okanagan

Vancouver Island

Interior



Interested in more killer Summit collabs? Check out the Brewing it for the Gram' contest and the first-of-its-kind accessible packaging collab we're working on!