Drink for a good cause.
Labeling in Chili's Honour.
---
Cancer sucks. In 2016 local Squamish artist Chili Thom succumbed to cancer and in his honour we are proud to sponsor Backcountry Brewing's smash hit "Suck it Cancer".
Throwing back to last years fan favourite and gold medal winner at the BC Beer Awards — "Suck It Trebek" — Backcountry Brewing flipped the script on this beer, renamed it "Suck It Cancer", and collaborated on the can design with Chili Thom's estate. Using his own art piece 'Mounties in my Mind' as the label.
"We realized, 'OK, well this would be very, very insensitive if we brought a beer back that was called Suck it Trebeck. We thought we'd flip the script and call it 'Suck it Cancer' and then fundraise for cancer." - Ben Reeder, co-founder and marketing manager for Backcountry Brewing.
In Chili's honour we hope to raise over $5000 with this beer for the BC Cancer Foundation, a national leader in cancer research.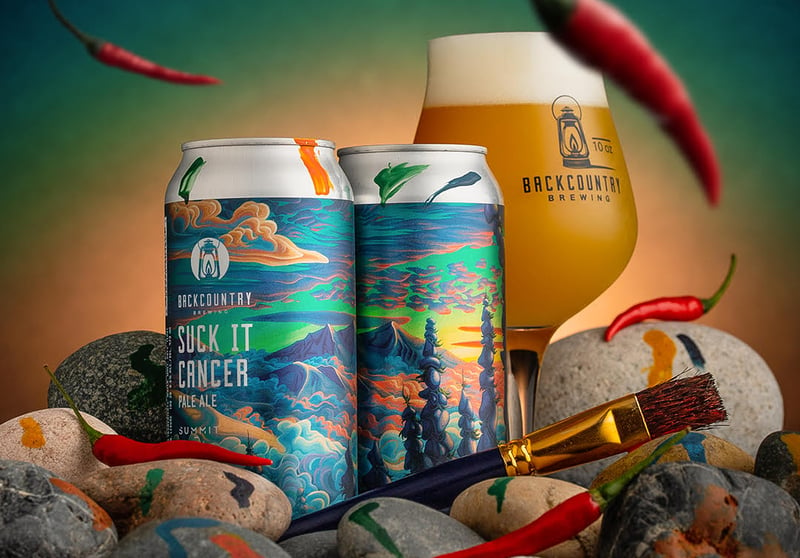 Suck It Cancer: DDH (Double Dry Hopped) Pale Ale 5.5% ABV | 28 IBU
Backcountry Brewing will be donating:
$1 per 4-pack sold
$50 per keg sold
$0.50 per sleeve sold in tasting room
$1 per 1L growler sold
$2 per 2L growler sold
While supplies last, you can find this beer across BC in:
Whistler/Squamish

Vancouver

Legacy
Highpoint
Brewery Creek
Firefly
Liquor Depot Cambie
Darbys Liquor Store
Liberty Wine Commercial

North Vancouver

BCLS Lynn Valley
BCLS Park Royal
The Gull
Spirits of Mt. Seymour
Jack Lonsdales

Sunshine Coast

Lighthouse Liquor
Blackfish Liquor Store

Fraser Valley

Lickman Liquor STore
Clayton Liquor Store
Jaks Group
Whatcom Liquor Store
Town Centre LRS

Interior

Cask and Barrel Kelowna
Lansdowne Liquor
Mission Liquor
Public Liquor Kelowna
BCLS Kelowna Orchard Park

Vancouver Island

Liquor Plus Duncan
Hillside
Cobble Hill
Saanich
Royal Oak
Cascadia
Courtenay
Eagle Creek

Tri-cities

John B Liquor Store

Jaks Coquitlam