Summer's here!
---
Now that BC is cautiously opening up again, many breweries have been allowed to open up or expand their existing patio spaces – allowing us to stay safe and keep our distance while we enjoy the remaining weeks of #patioszn.

Even though things are starting to get back to a "new" normal here in BC, it's as important as ever to socialize responsibly and do our part to reduce the spread of COVID-19.
Please be extra diligent and cautious when visiting these amazing outdoor spots, especially with the recent uptick in cases this past week in BC. Please practice the following safety measures so that we can continue to enjoy drinking beer at our favourite spots and to keep supporting these resilient local businesses: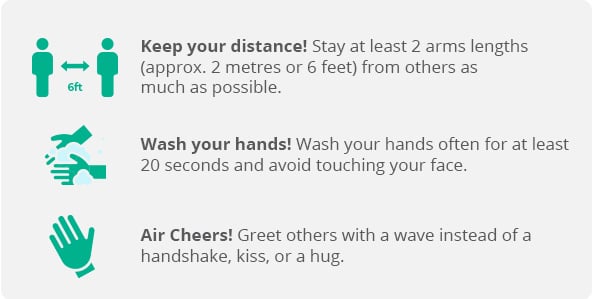 And don't forget, if you are experiencing any possible symptoms of COVID-19, please err on the side of caution, stay home and follow the advice of your Public Health Authority.


This week we are taking a look at some of the most unique patios in "the
BURBs". The Burbs are covering Metro Vancouver (aka the Lower Mainland)
out to Langley, up to North Van and down to Tsawwassen.
Moving out of the city means a lot more space for patios and, you guessed it,
some even better beer. Suburbia has got some pretty cool spots that fit
every beer lover's dream, while also allowing more distancing to safely enjoy the outdoors.
Go on and take a
scroll through our list of the most unique brewery patios the BURBs has to
offer.
1 -
Parkside Brewery (@parksidebrewery)

2731 Murray St, Port Moody BC, V3H 1X1
When you're this unique and one patio isn't enough, you build another one! Due to popular demand and to increase physical distancing, Parkside opened up a second side patio outside of their brewery filled with picnic benches and super laid-back vibes. Nestled right across the street from Port Moody's famous Rocky Point Park (hello @rockypointicecream), Parkside's patios make you feel like you're in an extension of this beautiful neighbourhood park (which is entirely the point). Bring your pup, sip on their Pleasantside Mixed Berry Ale, adore that unreal can label art design and #getparkside.
2 - Camp Beer (@campbeerco)
110-19664 64 Ave, Langley BC, V2Y 3J6
Thinking about camping this weekend? Skip the tent and check out Camp Beer. Their outdoor patio gives us serious summer camp vibes. Our team even agrees it always smells like roasted marshmallows there (how do they do that). Their oasis of a patio often has many events such as Yogalates classes (socially distanced of course) and live music. Shout-out on their bold and very colourful beer labels!


3 - Steel and Oak (@steelandoak)
1319 3rd Ave, New Westminster BC, V3M 1R2
Located right beside an overpass and in between two train tracks it can sound a bit busy, but trust us, you won't notice once you take a sip of Steel and Oak's delicious beer. Feeling hungry? They also have donuts from Royal City Donuts available every Saturday, and occasional guest appearances from Taps & Tacos.


4 - Bakery Brewing (@bakerybrewing)
2617 Murray St, Port Moody. BC, V3H 1X1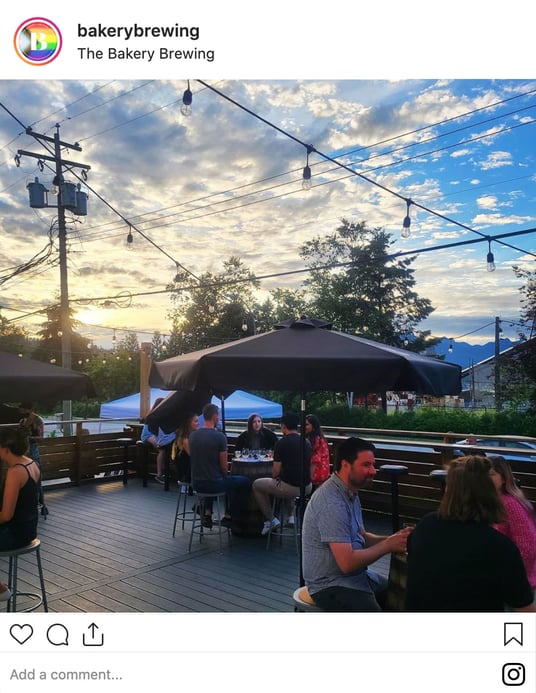 If you were looking for a spot to enjoy a cold beer in that glorious summer heat, the patio at Bakery Brewing is the place for you. Located in the heart of Brewers Row, the patio is lined with flowers and lights overhead (perfect for that #patioszn insta). Be sure to get their latest release, the Sunshine Hefe, in your taster flight.

5 - Yellow Dog Brewery (@yellowdogbeer)
1-2817 Murray St, Port Moody BC, V3H 1X3
As one of the founding members of Brewers Row, Yellow Dog also has one of the best brewery patios in the Lower Mainland. Filled with family-sized picnic tables, the patio is the perfect spot to hang out, chat, and enjoy some amazing beers. When fresh hop season rolls around, you better be first in line to get your hands on Alpha Dog, a glorious limited release fresh hop pale ale.
6 - Moody Ales (@moodyales)
2601 Murray St, Port Moody BC, V3H 1X1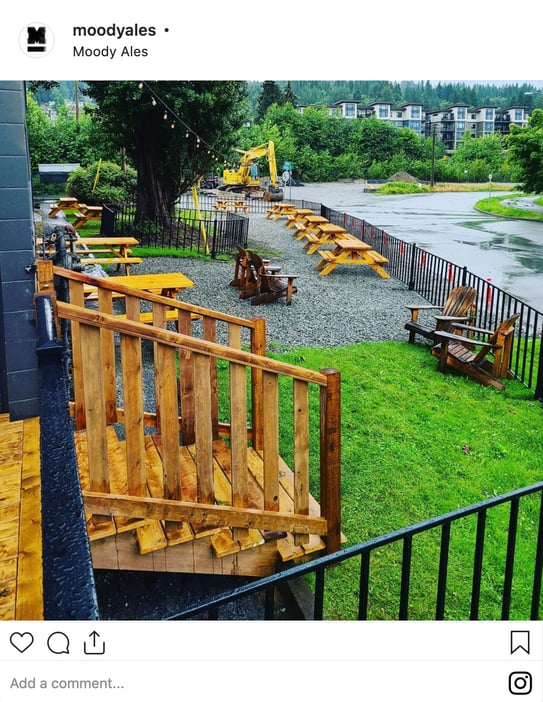 The lawn at Moody Ales has been extended which means there is even MORE patio space for us to enjoy and physically distance ourselves. Stop by for some fresh brews and sunshine. They also host local bands and popular food trucks such as Oh My Gado, so you can enjoy some live music and delicious food, while soaking in those beautiful rays.
7 - Wildeye Brewing (@wildeyebrewing)
1385 Main St, North Vancouver BC, V7J 1C4
Our first brewery on the north shore! Hop off your mountain bike and park yourself on one of the patio tables outside Wildeye Brewing to enjoy some amazing craft beer. As if you needed another reason to check it out, Tacofino's food truck is parked out front three times a week. Tacos and Beer - what more could you ask for? The answer – absolutely nothing!
8 - House of Funk (@houseoffunkbrewing)
350 E Esplanade, North Vancouver BC, V7L 1A4
Located in the Shipyards Brewery District, House of Funk has opened up a small street patio in front of their brewery that overlooks the Burrard Inlet. If you're looking to take a walk on the funkier side, hit up their patio to try out a flight of some of their barrel-aged and sour beers. They also double as café and have a variety of pastries to go with their house roasted coffee (which occasionally is an ingredient in their amazing beer).
9 - Bonus! Twin Sails Brewing (@twinsailsbeer)
2821 Murray St, Port Moody BC, V3H 1X3
We know we said this is a list of 8, but we just couldn't help ourselves and had to add one more! So why not have Twin Sails as a bonus to round out Brewers Row. Started by actual twins, Cody and Clay, they have a large outdoor space filled with tables ready for you to soak up the sun and get sipping their incredible beer. The only shade in your future is their Throwin' Shade – Pineapple Passionfruit Pale Ale.
10 - Bonus x 2! Beere Brewing Co (@beerebrewingco)
312 Esplanade E, North Vancouver, BC V7L 1A4


Okay, we might be getting a little carried away here, but we had to include a second bonus patio, purely for their amazing beer and their gorgeous sunsets. It's quite a colourful combination as you can see from this beautiful patio pic courtesy of @vancouversnorthshore. Now these are the kind of flights we don't mind taking right now. #flightsandsunsets
How'd we do? Miss anyone? Let us know! Next week we'll have our Big Beautiful BC list of unique brewery patios all the way up to Squamish and out to Abbotsford, Chilliwack and the Interior!
For the stay-at-home patio version and to support more local businesses, check out our list of craft breweries and cideries offering home delivery in BC