Summer's here!
---
Let's celebrate by hitting up some of the most unique brewery patios in BC. Now that BC is slowly opening up again, many breweries have been allowed to open up or expand their existing patio space – allowing us to stay safe and keep our distance while we enjoy #patioszn to its fullest.

Even though things are starting to get back to a "new" normal here in BC, it's important that we still do our part to reduce the spread of COVID-19.
Please practice the following safety measures so that we can continue to enjoy drinking beer at our favourite spots: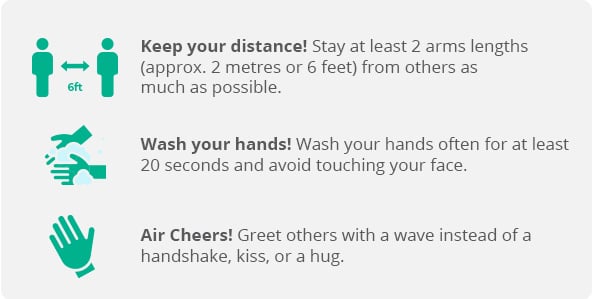 And don't forget, if you are experiencing symptoms of COVID-19, please stay home and follow the advice of your Public Health Authority.


Weezer said it best: "on an Island in the sun, we'll be playing having fun".
Ah Vancouver Island. One of the most beautiful places in BC, this big ol' Island (and its surrounding smaller islands) is home to some pretty sweet craft breweries and some even sweeter people. Here's our list of the most unique brewery patios on the Island(s) that you can check out over the weekend.

1 - Whistle Buoy Brewing (@whistlebuoybrewing)
63 - 560 Johnson St, Victoria BC, V8W 3C6

Located in the heart of downtown Victoria's iconic Market Square is Whistle Buoy Brewing. These guys were one of the first breweries that focused on crowlers instead of growlers when they first opened (if you don't know the difference you can check it out here. Enjoy some of their delicious beer out on their spacious, sunny patio (why is it always sunnier in Victoria, asking for a friend).
2 - Mayne Island Brewing Co (@mayneislandbrewingco)


460 Fernhill Rd, Mayne Island BC, V0N 2J2

Not on "the Island" but still on an Island, you will find tucked away in the woods, Mayne Island Brewery. This brewery has laid back, cozy cabin in woods feel. Scattered across the lawn area are several tables set up for tastings, and you can even drive through and "honk for beer" (to accommodate COVID-19 contactless pickup)

3 - Phillips Brewing Co (@phillipsbeer)
2010 Government St, Victoria BC, V8T 4P1
If you were looking for the most instagramable patio on the Island you have found it here. Phillips Brewery has some of the best murals not only on the Island but dare we say it - in BC. Their patio is beautiful, but really the star of the show is their amazing beer with fun spirited can labels (for starters, check out Dinosour and Pandamonium).
4 - Tofino Brewing Company (@tofinobrewco)
D-691 Industrial Way, Tofino BC, V0R 2Z0
Just minutes from the beach is Tofino Brewing Company. Their tasting room is beautiful with a modern feel, and the patio has a few tables ready for sitting and sippin' some beer flights. It even has some heaters in case you decide to stick around later into the evening or need to warm up from a day of surfing those big waves.
5 - Dog Mountain (@dogmountainbrewing)
3141 3rd Ave, Port Alberni BC, V9Y 4C7


Finally – our first rooftop patio on the list! The rooftop patio at Dog Mountain Brewing is pretty spectacular. With great ocean views, they are even hosting some socially distant live music events this summer! Kick back and enjoy some beers while listening to some great local bands.
6 - Ucluelet Brewing Company (@ucluelet_brewing_co)
1601 Peninsula Rd, Ucluelet BC, V0R 3A0



Up next on our list is another rooftop patio! Ucluelet Brewing Co has a pretty sweet patio overlooking the water. The patio is spacious and even has a plant surrounded "hop nook" that is perfect for date night.
7 - Red Arrow Brewery (@redarrowbeer)
5255 Chaster Rd, Duncan BC, V9L 5J2


Red Arrow Brewing has one of the most unique patios on this list. The brewery is located in what used to be an old motorcycle shop in Duncan, BC. Stop by and check out its beautiful totem pole in the center of the patio (carved by artist Tom LaFortune) and enjoy some awesome beers.
8 - BONUS Cidery! Fossil Beach Farm (@fossilbeachfarm)
750 Savoie Road, Hornby Island BC, V0R 1Z0


Since it's BC Cider Week we thought we would include one bonus Cidery patio. Located on Hornby Island, Fossil Beach Farm has a large outdoor seating area right by the beach. Grab a pint (or two), relax, and enjoy the beach views!
How'd we do? Miss anyone? Let us know! Be sure to tune in next week for the next article in our patio series: The Burb's Most Unique Brewery Patios.
For the stay-at-home patio version, check out our list of craft breweries and cideries offering home delivery in BC