Summer's here!
---
Now that BC is cautiously opening up again, many breweries have been allowed to open up or expand their existing patio spaces – allowing us to stay safe and keep our distance while we enjoy the remaining weeks of #patioszn.

Even though things are starting to get back to a "new" normal here in BC, it's as important as ever to socialize responsibly and do our part to reduce the spread of COVID-19.

Please be extra diligent and cautious when visiting these amazing outdoor spots, especially with the recent uptick in cases this past week in BC. Please practice the following safety measures so that we can continue to enjoy drinking beer at our favourite spots and to keep supporting these resilient local businesses: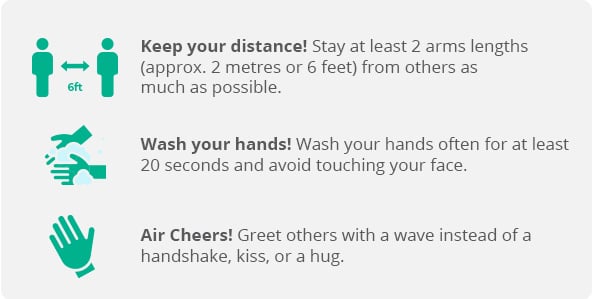 And don't forget, if you are experiencing any possible symptoms of COVID-19, please err on the side of caution, stay home and follow the advice of your Public Health Authority.

This week we are taking a look at some of the most unique patios in Big Beautiful BC. This will include any breweries outside of the BURBs including Whistler, the Valley, and the Interior.
In the summertime when the weather is warm and temperatures are high, we've got beer and patios on our mind. This week we are looking at some of the most unique patios in Big Beautiful BC. Take your pick of mountain, ocean, farm, or city views – BC has got you covered. Here's our list of 11 unique patios in BC for you to check out this weekend:
1 - Fieldhouse Brewing Co. (@fieldhousebrewing)
2281 West Railway St, Abbotsford BC, V2S 2E3

Number one patio on our list is the Beer Lawn at Fieldhouse Brewing. This massive outdoor green space is the perfect spot for beer drinking and chit chatting the afternoon away. With an amazing atmosphere, chill vibes, great brews and locally sourced food, this patio has all the makings of a perfect backyard staycation. The lawn offers tons of space so you can socially distance. Stop by Thursday evenings for their Field Sessions, where they feature local musicians so you can enjoy live music while you drink.
2 - Old Yale Brewing Co (@oldyalebrewing)
44550 S Sumas Rd, Chilliwack BC, V2R 5M3


Comfy chairs? Check. Great beer? Check. Delicious food? Check. The abundantly spacious patio at Old Yale Brewing ticks all our boxes. With its laid back, campground vibe, you can easily stay socially distant on their 5000 sq ft patio while drinking their awesome beer. If you get hungry, their campfire kitchen cooks up some delicious comfort food (we recommend the pineapple bourbon chicken wings).
3 - Tapworks Brewing Co (@tapworksbrewing)
537 Cruice Lane, Gibsons BC, V0N 1V9

Ocean views + great beer = #patioszn perfection. Nestled in the heart of lower Gibsons, the rooftop patio at Tapworks has an amazing view of the ocean. If one patio wasn't enough for you, they have recently opened up a second (dog friendly) patio right out front of the brewery. Order a flight of beer, sit back, and enjoy the relaxed atmosphere and that gorgeous west coast view.
4 - Backcountry Brewing (@backcountrybrewing)
405-1201 Commercial Way, Squamish BC, V8B 0V1

Wood fired pizza and beer, what more could you need? Backcountry has opened up a patio right outside of their brewery in Squamish. Take in those gorgeous mountain views while having some of their fun spirited beers. With brewery exclusive limited releases such as I'll Take You To The Candyshop Fuzzy Peach Sour, be sure to try a variety of their beers while supplies last. Shoutout to their bright beer labels and even bolder beer names (we see you Babymaker ISA).
5 - Howe Sound Brewing (@howesoundbrewing)
37801 Cleveland Ave, Squamish BC, V8B 0A7
Take a break from hiking or climbing the Stawamus Chief and instead, grab a pint and stare at it in all its beauty on the patio at Howe Sound Brewing. The view is pretty spectacular, and almost as spectacular is their beer. Be sure to try their Pamplemousse Pale Ale which was created in partnership with RideBC. $2 from every six pack goes to support Squamish trails.
6 - Persephone Brewing (@persephonebrewing)
1053 Stewart Rd, Gibsons BC, V0N 1V7
Hidden away on a 11-acre farm in Gibsons is Persephone Brewing. The farm is used for growing its own hops as well as food, so you can try not only their farm-to-table fare, but also their "beer-to-table". Their patio is more of a backyard, but hey – it still counts! With picnic tables scattered along the surrounding area of the brewery, you can sit and enjoy the heavenly garden setting while sipping on some delicious beer. And hey, if you're there at the right time, you might just get to try your hand at axe throwing!
7 - Whistler Brewing (@whistlerbrewing)
1045 Millar Creek Rd, Whistler BC, V8E 0W5
Located right by Function Junction is Whistler Brewing. Hop off your mountain bike and park yourself at their newly expanded patio. Grab an ice-cold pint, some nachos, and enjoy that warm summer heat. They even host live music nights so be sure to check to see when you catch some local bands. When you have finished here, you can hop on over to the next spot on our list for round two.
8 - Coast Mountain Brewing (@coastmountainbeer)
1212 Alpha Lake Road #2, Whistler BC, V0N 1B1
Just a short walk down the street from Whistler Brewing is the next patio on our list – Coast Mountain Brewing. Gorgeous mountain views surround the patio, so you can sip away and take in all that natural beauty. Be sure to try their creative and flavourful beers, such as Drink The Rainbow – a hazy pale ale brewed with skittles!
9 - Townsite Brewing (@townsitebrewing)
5824 Ash Ave, Powell River BC, V8A 4RA
Townsite Brewing has just opened up a brand new patio out front of their brewery. So swing on by, bring your dog (they are pet friendly), and stop by for some fresh brews and some nice ocean views in the heart of Powell River.
10 - Cannery Brewing (@cannerybrewing)
198 Ellis St, Pentiction BC, V2A 4L3
Food trucks and cold beer make the backyard patio at the Cannery the Backyard of our dreams! The large outdoor space is filled with picnic tables and old barrels perfect for hanging around and drinking some beers in the sun.
11 - Backroads Brewing Company (@backroadsbrewing)
460 Baker Street, Nelson BC, V1L 4H8
In the heart of Nelson is Backroads Brewing. Their patio is a bit shadier than the others on our list, with lots of umbrellas to cool you down from that summer heat. If that doesn't keep you cool, a pint of their new Explorer 200 IPA will probably do the trick.
12 - Bonus Cidery! Truck 59 Cider (@truck59cider)
3887 Brown Rd, Kelowna BC, V4T 2J3
We know it's not beer, but did you see that Orchard view?! The outdoor space around Truck 59 Cider has several picnic tables for you to sit down and enjoy a flight of their fresh craft cider.
How'd we do? Miss anyone? Let us know! This completes our series of the most unique brewery patios in BC, covering Vancouver, the Island, the BURBs and the rest of Big Beautiful BC. Stay tuned for more exciting content to come in the next couple of weeks!
For the stay-at-home patio version and to support more local businesses, check out our list of craft breweries and cideries offering home delivery in BC