Summer's (finally) here!
---
Let's celebrate by hitting up some of the most unique brewery patios in BC. Now that BC is slowly opening up again, many breweries have been allowed to open up or expand their existing patio space – allowing us to stay safe and keep our distance while we enjoy #patioszn to its fullest.

Even though things are starting to get back to a "new" normal here in BC, it's important that we still do our part to reduce the spread of COVID-19.
Please practice the following safety measures so that we can continue to enjoy drinking beer at our favourite spots: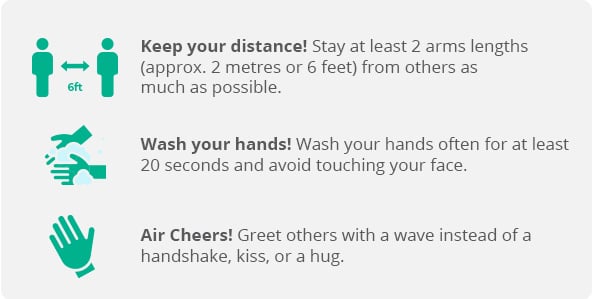 And don't forget, if you are experiencing symptoms of COVID-19, please stay home and follow the advice of your Public Health Authority.
Here's our list of the most unique brewery patios in Vancouver that you can check out over the long weekend.
1 - Stanley Park Brew Pub (@stanleyparkbrew)
8901 Stanley Park Dr, Vancouver BC, V6G 3E2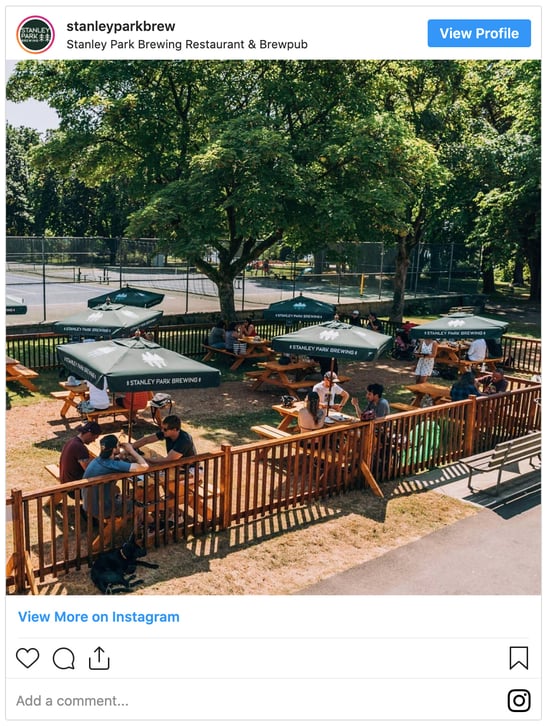 It doesn't get much better than a brewery right in the heart of Stanley Park. Take a break from biking the sea wall and stop by the Stanley Park Brew Pub for a quick pint. The patio is encompassed by all of the park's natural beauty and they have great beer to boot.
2 - Powell Street Brewing (@powellbeer)
1357 Powell Street, Vancouver BC, V5L 1G8


Many craft breweries were left at risk as a result of the social distancing restrictions put in place to reduce the spread of COVID-19. When BC allowed breweries to open up new outdoor spaces, Powell pivoted their business and opened up a spacious new patio to get back to serving their fresh, delicious craft beer on site to their loyal customers. Their picnic table filled patio that can seat up to 32 people (at a safe distance). Stop by and sip on their newest Citra Passion Fruit Sour while enjoying those beautiful rays.
3 - 33 Acres Brewing (@33acresbrewing) and 33 Brewing Experiment (@33brewingexp)
15 W 8th Ave, Vancouver BC, V5Y 1M8
Another brewery patio expansion, 33 Acres and 33 Brewing Experiment have just opened up a small sidewalk patio for you to soak up the sun while sipping on their delicious craft beer. Prime location in the Mount Pleasant area, after you finish here you can hop on down to the next place on our list.


4 - R&B Brewing (@rbbrewing)
1-54 E 4th Avenue, Vancouver BC, V5T 1E8
Just down the street from 33 Acres, with its faux grass lawn and row of stools the run down the length of the brewery, the R&B patio makes you feel like you're in someone's (strange) backyard. Perfect for beer drinking in the sun, they also serve amazing pizza if you get hungry.


5 - Dockside Brewery (@docksidevancouver)
1253 Johnson St, Vancouver BC, V6H 3R9
The patio at Dockside is a "must experience". Although it's mainly known for its food, it's views of downtown Vancouver and False Creek are unparalleled (be prepared to spend a bit more $$ to enjoy it). The patio is filled with couches to sit and enjoy the views, and it even has a fireplace so you can lounge late into the evening.
6 - Steamworks Brew Pub (@steamworksbeer)
375 Water Street, Vancouver BC, V6B 1B8
Right in the heart of Gastown in a historic building, Steamworks is located right by Waterfront station. Their large patio overlooks the water and the mountains, where you can enjoy their beers while also having some diverse pub food.
How'd we do? Miss anyone? Let us know! Be sure to tune in next week for the next article in our patio series: The Island's Most Unique Brewery Patios.