BE KIND
That's the message behind this stunning collaboration with local abstract artist Sarah Symes. Inspired by the rainbows drawn by kids all over Squamish, Sarah Symes' rainbow has been shared with millions worldwide by the United Nations. Now, it's coming to fridges in select liquor stores in BC for a good cause and continuing that with a straightforward message of positivity; be kind to one another.
"I used a primary colour palette, wanting the design to be simple both in message and style. The red, yellow and blue are also the colour of world flags, signalling the need for a global response to the pandemic. The hand-drawn shape of the rainbow reflects our imperfect human nature in an imperfect world, during a time when it's so important to be kind to each other." - Sarah Symes
Summit Labels partnered with Whistler Brewing to create a limited edition Butterfly Flower Lager and label sporting Symes' message of kindness, with proceeds going to the Canadian Mental Health Association (CMHA) North and West Vancouver branch, supporting locals up and down the Sunshine Coast.
As the nationwide leader and champion for mental health, the CMHA promotes and supports the resilience and recovery of people experiencing mental illness. In BC, this incorporates mental health, substance use, and addictive behaviour. As our fellow British Columbians continue to struggle, now more than ever, supporting our mental health services and spreading kindness and compassion to one another is a priority.
"It is a reminder that doing something small can have a big effect," she said. "That is our job as artists; we must find a way, even during a pandemic." - Sarah Symes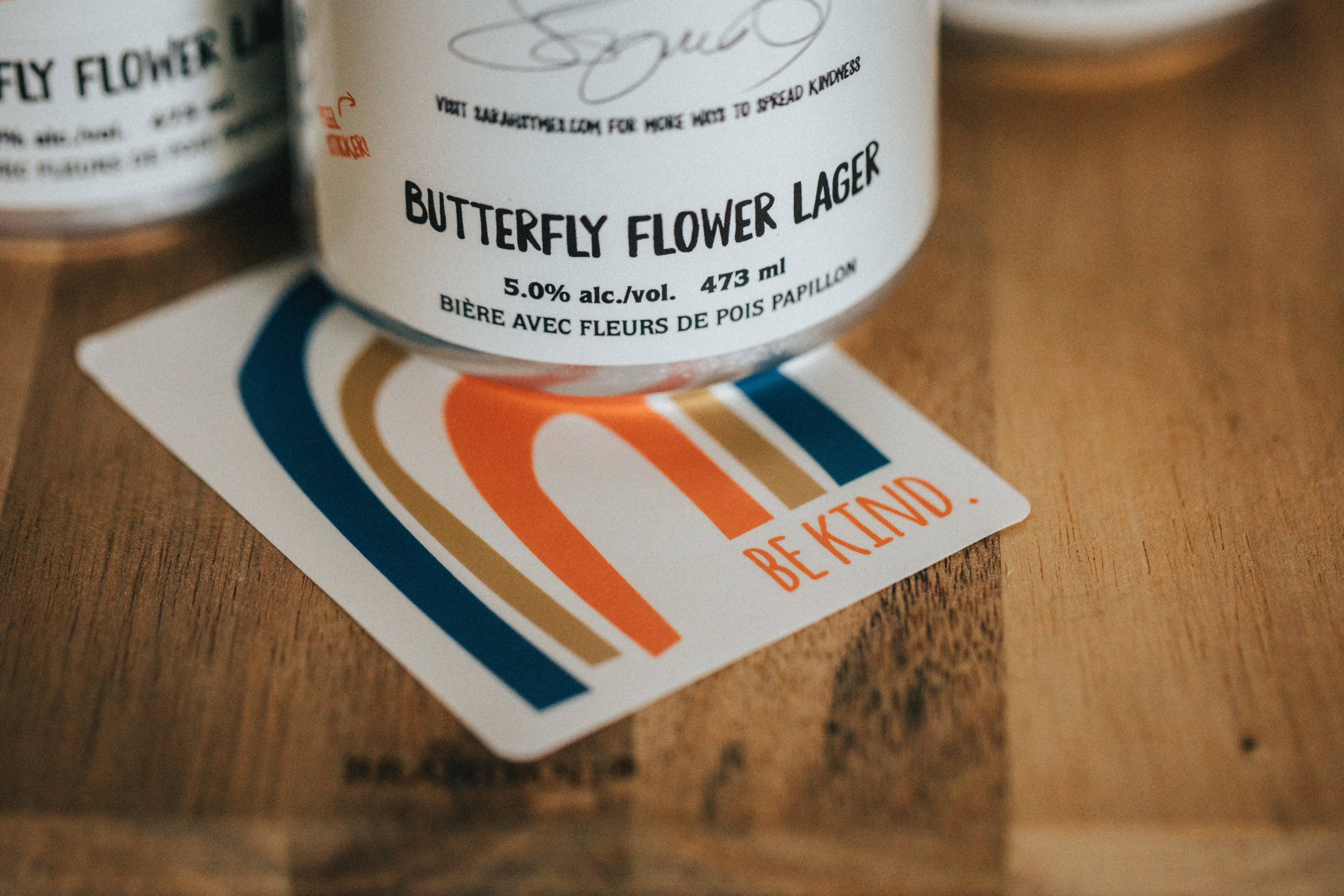 We've worked carefully with Symes, and our own cutting-edge tech, to create a label that allows you to physically spread the message. Simply peel off the rainbow to reveal a note from the artist, and use this rainbow sticker to spread kindness in your community. We're proud to be donating more than $5,700 in labels to this worthy cause.
Pick up your specialty cans starting next week from Whistler brewing and select stores in BC! At 5.0% alc./vol, this crisp, refreshing beer has a hint of butterfly pea flower, which lends it its purple tone--and purple is the colour of peace! So not only is it for a great cause, it promises a cozy approachable taste too.
Proceeds from Sarah Symes' limited edition prints, stickers, and notecards are also headed to the cause. Check them out and get yours here.
Stay Safe, Stay Connected, and Be Kind!