'Tis the season for indulging in all the best things that life has to offer, and never before has it been more important to treat ourselves than in 2020! While this has been a year like no other, the holiday season is an opportunity to try the latest and greatest, and for the beer elves out there, that means stocking up on sensational seasonal beers crafted by awesome local breweries.

With so many unique beverages hitting shelves and online stores this month, we figured why not get our own in-house beer elf Matty Human to come up with his own list of can't-miss crafties to help you get into the festive spirit.

Matty joined the Summit team in July 2020, coming to us with a background in craft beer and beverages. He got his start running a marketing team for his hometown brewery back in 2008, and eventually found himself as the Director of Operations with Vessel Packaging, a trusted partner of ours that offers packaging solutions to breweries and beverage producers.
He's been learning the label language for a few months now, and we are so excited for him to be able to connect with our brewery and beverage partners in 2021! In the meantime, he's put together this list of seasonal specials to keep an eye out for as you fill the festive fridge.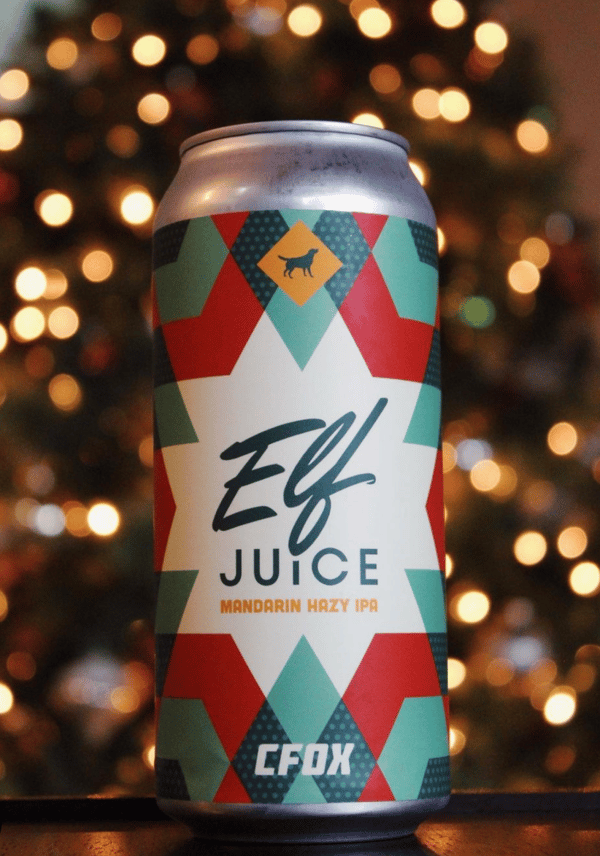 1. Elf Juice – Yellow Dog Brewery, Port Moody, B.C.
Let's start this list off with the beer the elves use to power through their busiest time of year! If Brewer's Row was ever mistaken for Santa's beer workshop, then Yellow Dog's Elf Juice might be the flagship. Coming in at 7% ABV, this Mandarin Hazy IPA is a collaboration with CFOX Vancouver, with partial proceeds going to the Share Society it's a holiday treat that will keep you jolly all through the night!
Old Yale Brewing has fired up all the fruits in this holiday home run. A citrus character with a light spice will keep you refreshed as the season ramps up, making you a holly jolly Zoom participant with family and friends all day long. This will definitely be my breakfast beer this year.

3. Krampus – Strange Fellows Brewing, Vancouver, B.C.
The seasonal specialty from Strange Fellows Brewing, Krampus, is an Abbey Dubbel that will warm you up from your toes to your nose. While he may not be quite as cheerful as St. Nick, Krampus definitely delivers the goods for every beer drinker on your list!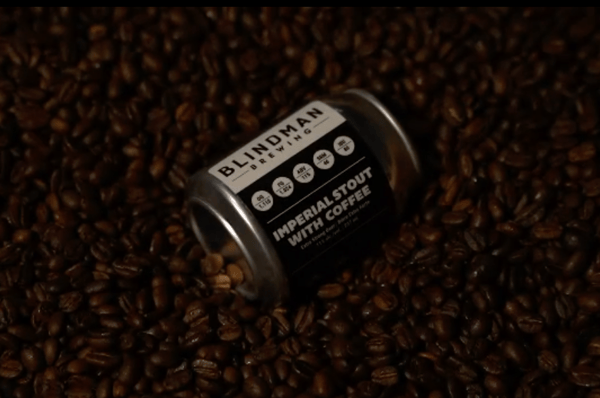 The holidays, also known as Stout Season, are a perfect time to enjoy a beer you may not typically sip on. For many, stouts seem intimidating, but this one from Blindman Brewing mixes in specially roasted organic Indonesian coffee beans to give it a kick that might make you forget its 11% ABV. The cool can size also makes it the perfect pick-me-up in between Zoom chats and snow shovelling sessions.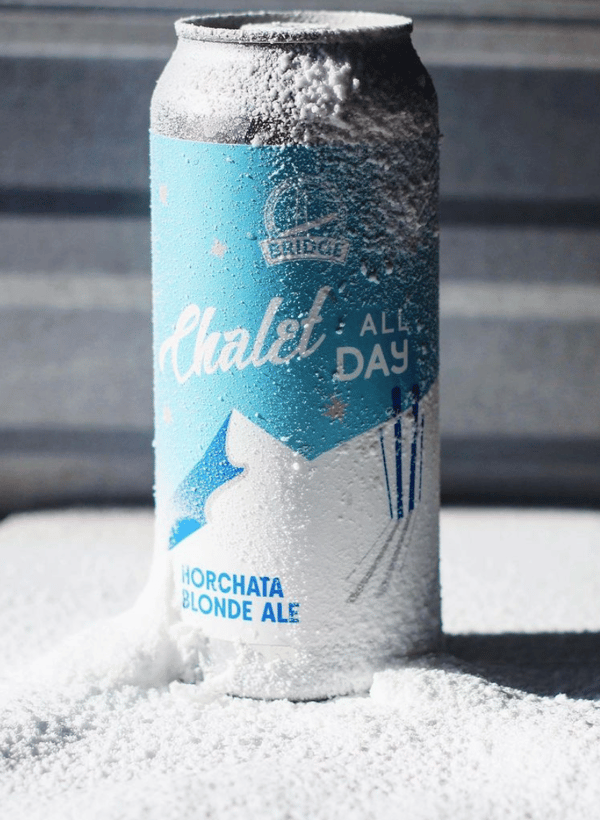 5. Chalet All Day – Bridge Brewing Co, North Vancouver, B.C.
With three ski hills in their backyard, Bridge Brewing Co knows how to après better than most, as evidenced by this golden blonde ale with a touch of fresh coffee from Agro Roasters. Cinnamon, vanilla and lactose make this a beer that might keep you off the hill because it's so delicious, so make sure you get your turns in before cracking into this can!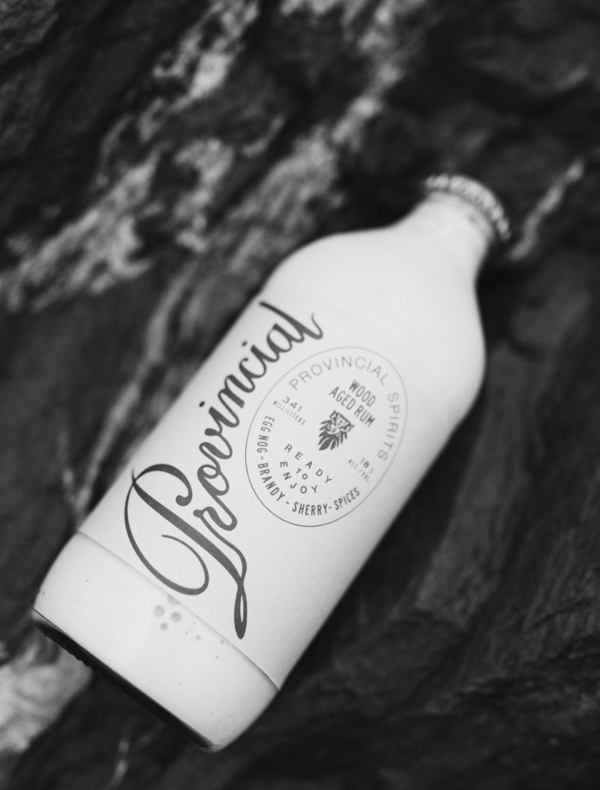 6. Bottled Egg Nog – Provincial Spirits, Port Coquitlam, B.C.
I know that this list is supposed to be beers only, but I had to include this seasonal staple from the cocktail crew at Provincial Spirits. Wood aged rum and egg nog with a little brandy and tonka bean added in there will have you decking the halls merry and bright––let's be honest, something about rum and egg nog just feels so right.

After a blue-bird day spent slicing through knee-deep powder, there's nothing better than warming up with a creamy stout. Whistler's Coast Mountain Brewing has you covered with this Nitro-infused Black Diamond Stout, featuring Marris Otter - the finest traditional English Malt available. Be sure to pour into a glass and watch the nitrogen work its magic

8. Bussmann Cranberry Sour – Medicine Hat Brewing Company, Medicine Hat, AB

While cranberries usually only make their debut at Christmas dinner, this kettle sour featuring the finest cranberries from Oregon Fruit Products packs them into a delicious beer ready for consumption now! With a 4.5% ABV, it will keep the juices flowing through days of wrapping presents and neverending Netflix binges.

Looking to hydrate after a big day of shovelling snow or baking a million Christmas cookies? This refreshing ale uses pilsner malt and mosaic hops to pump up the passion fruit flavour, meaning you might just need another one to satisfy your sweet tooth.

10. Turbo Stout - Sea Change Brewing, Edmonton, AB
There are a couple of stouts on this list already, but I had to add one more once I saw the word 'CRONUTS' in the description of this winter treat from Edmonton, Alberta's Sea Change Brewing. Along with the cronut contents, there are 10 different malts packed into this brew, making it a beer that will power you up for anything the holidays throw at you!

11. Anno 2020 – Dageraad Brewing, Burnaby, B.C.
I know the title of this post is the 12 Cans of Craftmas, but I couldn't miss including this bottled Belgian-inspired beauty from Burnaby's Dageraad Brewing. While there might not have been a lot to celebrate in 2020, this strong golden ale brewed with Okanagan pears and Indian coriander is definitely a highlight. The best part is that it will only get better with time, thanks to the Brettanomyces yeast used to crank up the complexity as the beer ages.

Rounding out the 12 Cans of Craftmas is this anniversary beer from Powell Brewery in Vancouver, B.C. Because we could all use a little luck these days, they came up with this perfect combination of cherry and vanilla in a mild sour ale that will have you ready to take on the world in 2021.

Thanks for tuning in! What are you sippin' this holiday season? Let us know on Instagram @summitlabels, or get in touch and let us know your beer plans for the new year. In the meantime, we wish you, your families and friends a safe and happy holiday season, and all the best in 2021. Cheers!