In the spirit of Pink Shirt Day, Surrey brewery Russell Brewing has partnered up with Just Here for the Beer radio show in their most recent charity beer release, "Be a Buddy Not a Bully."
​​They've brewed a delicious hazy dry hopped lager with a bold and floral earthy aroma from a dry hop of Czech Saaz, guaranteed to please the palate. What's more, they've designed a super unique label they entrusted us with printing to match the special release beer. It's bright, bold, and very pink. Upon taking a closer look, you'll notice several peel-off stickers with inspirational messages surrounding anti-bullying.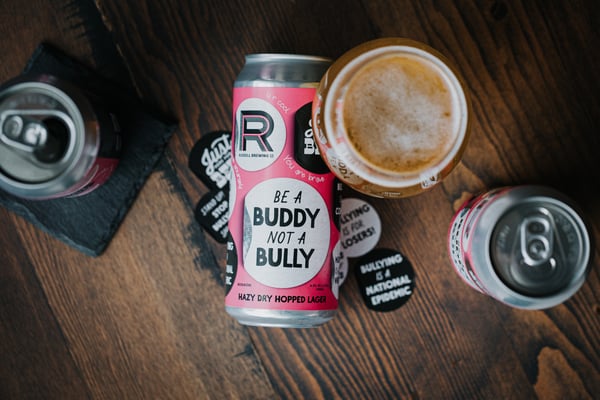 Russell and Just Here for the Beer's goal is to support programs that promote healthy self-esteem in children and further create awareness around the problem of bullying. They will donate partial beer sale proceeds to Pink Shirt Day. Funds are then allocated to various initiatives supporting anti-bullying efforts. These organizations teach children the importance of kindness, compassion, and empathy while promoting positive self-esteem among their peers and themselves.
Be a Buddy Not a Bully is out now! You can purchase it at the Russell Brewing taproom, their online store, and select local beer retailers. So, support the cause, grab a four-pack, and join in on the fun on February 22nd. The brewery is hosting an event at their Surrey taproom to raise funds from the sale of the Beer in both Kegs and cans. Prepare your pink shirt, wear your sticker, and pop by for some good-cause drinking!
If you have questions about peel-off labels and how to use this cool technology to elevate your labels