As of September 1st, 2021 Recyc-Québec's new regulations will come into effect; all aluminum cans will need to be labelled with paper or be pre-printed (ie. have the information printed directly on the can).
So, we being the problem-solving partners we are, sat down to find a solution for our craft beer and beverage pals in the big QC. What we came up with hits the mark not only for our sustainability values but for your diverse canning needs.
Introducing Summit Labels ' new Eautex stock.
A heavy-hitting, wet-strength, 10% post-consumer waste paper material built to withstand whatever cold, wet, and messy conditions you throw at it. (Even a Canadian winter.)
With a superior water-resistant adhesive, it's been tested at -65degrees so you can apply it straight from the fridge or directly after filling and trust your customers won't be picking up a sloppy, slushy mess. Who said BOPP is the only answer?
Summit's Eautex stock is the ideal solution for Quebec's new mandates around plastic-free labelling. Don't believe us? Take the wet test.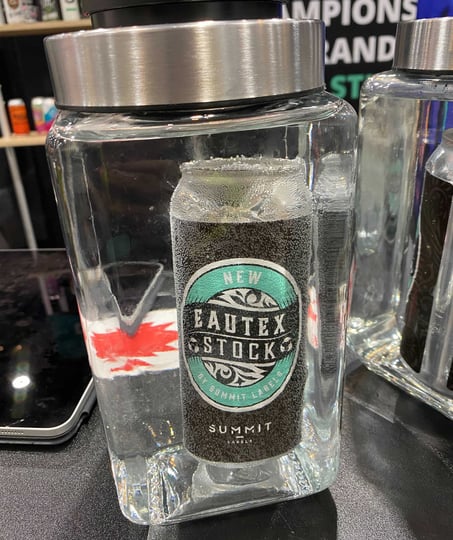 Take the Eautex Wet-Test
Nerding out on new tech is our thing, so we gave this stock thorough testing before releasing it to our trusted partners. But we also know, seeing is believing. So we challenge you to take the Eautex wet test.
Hit the button below, and fill out your mailing address. We'll send you your own sample pack of 473ml Eautex labels. Apply to your can, and submerge in a water bath for three hours. Yeah. You read that right.
Tag us in your proof pics on IG @summitlabels #wettest before midnight PST on November 31st, 2021 and we'll enter you to WIN a $250 credit in the For the Love of Beer Program.