Sustainability, zero-emissions, and environmentally friendly are all terms we're seeing more and more often, and for a good reason. Climate change is real and scary. So, it's nice to see companies and individuals doing what they can to minimize its effects. Move Electric is one BC company taking action, and paving the way for sustainable business practices.
Truthfully, the label industry just isn't the most sustainable. Many materials, stocks, and laminates aren't recyclable and often end up in the trash. That sucks, and we're trying to fix it. Sustainability has become a huge focus for Summit in recent years and it's only becoming more critical. We see this as an opportunity to do better and be better in an industry that provides few sustainable alternatives. We asked: 'What could we do as a company to reduce our carbon footprint and minimize any adverse environmental impacts?' the answer? A partnership with Move Electric!
Move is a local all-electric courier company that delivers sustainably. They're redefining delivery. Reducing their carbon footprint and the overall impact of carbon emissions on the environment is at the heart of this company's business. The company thrives off of a single, unifying goal:
"accelerate our transition toward a sustainable energy future."
Our pals at Move want to "catalyze local, sustainable choices by ensuring their services are accessible and affordable for everyone." Innovation and sustainably serving clients are core to the business. It's what makes them different and is one of the many reasons we are so proud to call them partners.
Why this rocks for you:
Off-set the carbon emissions which are typically associated with your label deliveries (find out the exact number using our Carbon Calculator)
Same day delivery
Electronic routing for effective, accurate (low energy) routes.
Real-time tracking so you always know where your projects are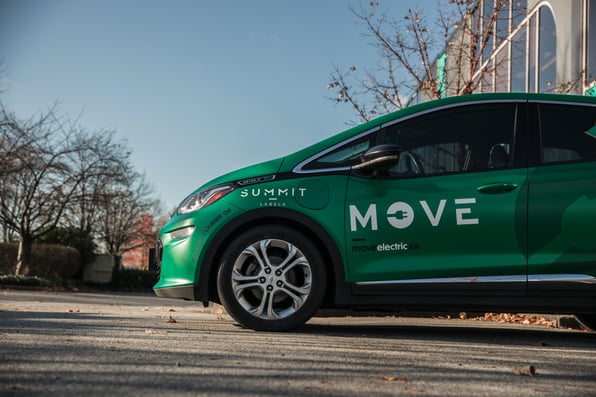 Move delivers all of our local label orders within the Lower Mainland of British Columbia, bringing you your lovely labels on time without the emissions. What a win! You can spot the Move vehicles with their vibrant green colour and Summit decals cruising around the Lower Mainland already-so, keep your eyes peeled. This is just one of the many sustainable pushes Summit has made and will continue to make. We're determined to promote a greener future by helping redefine industry standards, embrace change, and like Move, we are committed to leaving the world better than we found it.